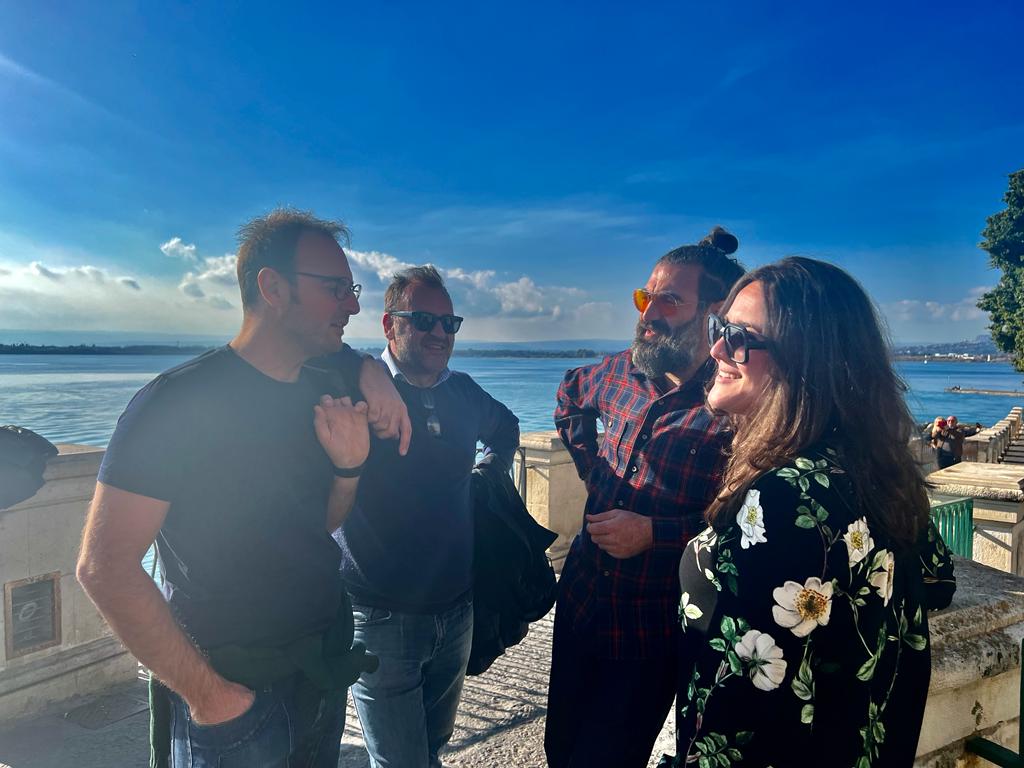 Hello!
Christmas 2022.
WIth my family in Siracusa.
Khione is a bridge between Mediterranean tradition and all those who hold a passion for Italian "taste". It is, therefore, our mission to eliminate the distances between the small local producers of Sicily and the lovers of "good food". In today's society, many people hurry about daily lives, jobs and duties and as such, many people are unable to devote time and money to the culinary arts. However, here at Khione, we select all the best suppliers that reflect the values of tradition, quality, and environmental sustainability; though none of this could have been possible without the help of my brother and his careful research back in Sicily.
  Khione is born from a passion for food that my family has held for generations. I have witnessed my family create and prepare fresh foods with their own hands with pride since I was a child. Then, we used to pick olives for olive oil or fruits for jams, as it was for all of the food served at our table. If my mother didn't prepare it all herself, it came from the skilled and trusted hands of other family members. It was through observing my mother, whom herself made her mother's recipes, that I learned respect and love for food, grasping the importance, value and benefit of those "slow food" times. My father owned an agri-food company which my brothers and I were always involved in, driven by the passion he and our family passed on to us.
 From an early age, I have lived in various different cities, many far from home, and suffered not only the distance from my loved ones but also the lack of aromas and flavours my family kitchen brought. Today, here in Cardiff, I find this nostalgia and need for "home cooking" amongst my fellow countrymen, who attempt to reduce the distance from loved ones receive boxes containing typical Sicilian food and treats. From this common need, I decided to bring a part of my home to Cardiff, which through the years, has become a second home to me. As such it was of great importance to me to combine the two homes, first where I was born, and second where I have built my own life.
 As soon as I arrived in Cardiff, I was happy to find the interest the Welsh had with regard to Sicily and its cuisine and culture. Many thanks, I think to the long beloved television program Inspector Montalbano, in which many nods to Sicilian foods are mentioned such as Cassata, Arancini, and of course, Cannoli which we make fresh in our store.
 Wales, besides being a hospitable and beautiful place, is a place where people are kind and open-minded to tasting foods from different traditions. After all, Italy has always been famous for its unique flavours.
 Khione wants to help small Sicilian companies to make themselves known in the world and share their knowledge. We believe that it will lead people to start being more attentive to what they eat and we want to be a part of this change and give it our full contribution.